Comparing 4 Popular Solar Panel Installation Options
We understand that it can be confusing to know which type of solar panel installation to choose for your home, property, or business. Do you maintain a connection to the grid, or go off-grid? Should you invest in a battery backup system? Or can you just install a solar kit by yourself?
At Belmont Solar, we want you to enjoy the benefits of solar, and we want to make the process of switching as smooth as possible. That's why we've created this comparison chart to give you some of the information you need to choose between a grid tied, grid interactive, and off-grid solar system installation. We've also included our popular DIY solar kit, for those that want a smaller, more affordable installation.
We hope that this chart helps you make a wise choice for your investment into solar. For a custom evaluation of your solar energy needs, schedule a free consultation with the team at Belmont Solar.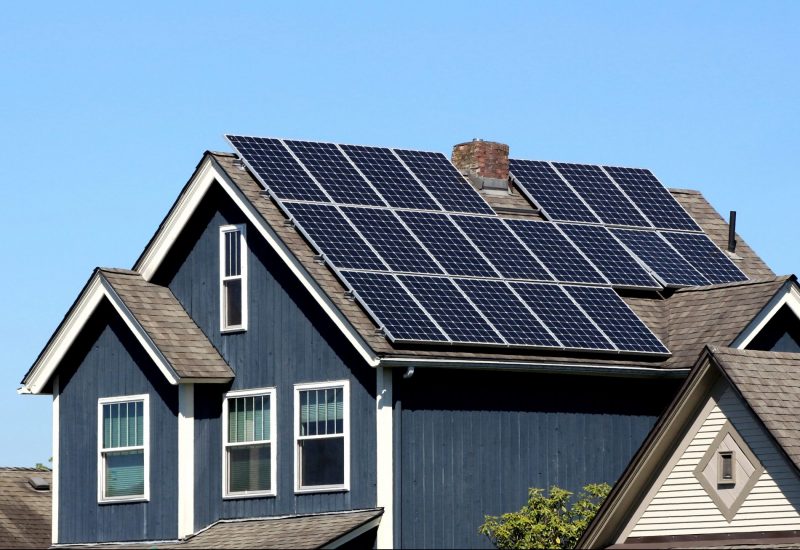 Solar Panel Installation Options: 4 Types Of Solar Systems
Ok, so you definitely have some options when it comes to Solar Energy. Our Solar Energy Comparison Chart compares 4 different solar panel installation options you can consider. Refer to the description of each solar panel installation option below as you read through the chart and if you have any questions be sure to reach out to us, we would be happy to answer your questions!
Solar Panel Installation Options: Off Grid Solar Panel System
Off Grid Solar Systems are great because they give you the opportunity to gain total independence from the power grid and power companies. Off Grid Solar Systems are not connected to the power grid. They operate independent of the grid. They are typically the more expensive solar panel option because each system is custom designed and installed to meet your specific needs. Off Grid Solar Systems also require a lot of installation area. It will either take a lot of roof space or if you get a ground mounted solar array it will take a decent amount of ground. Off Grid Solar Systems are great overall and we can help you design yours if that's the route you choose to go. Contact Us today to get started.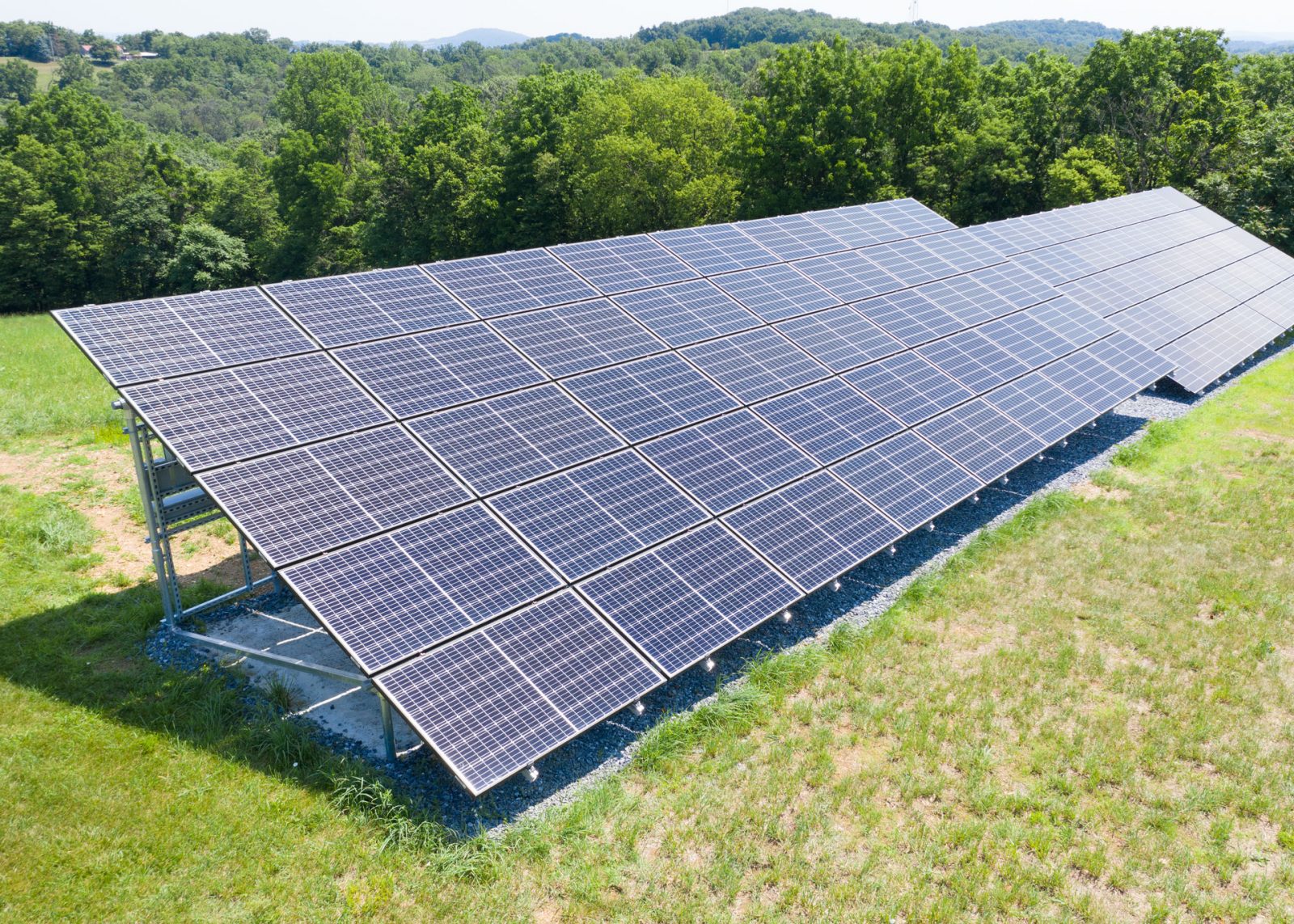 Solar Panel Installation Options: Grid Tied With Battery Backup Solar Panel System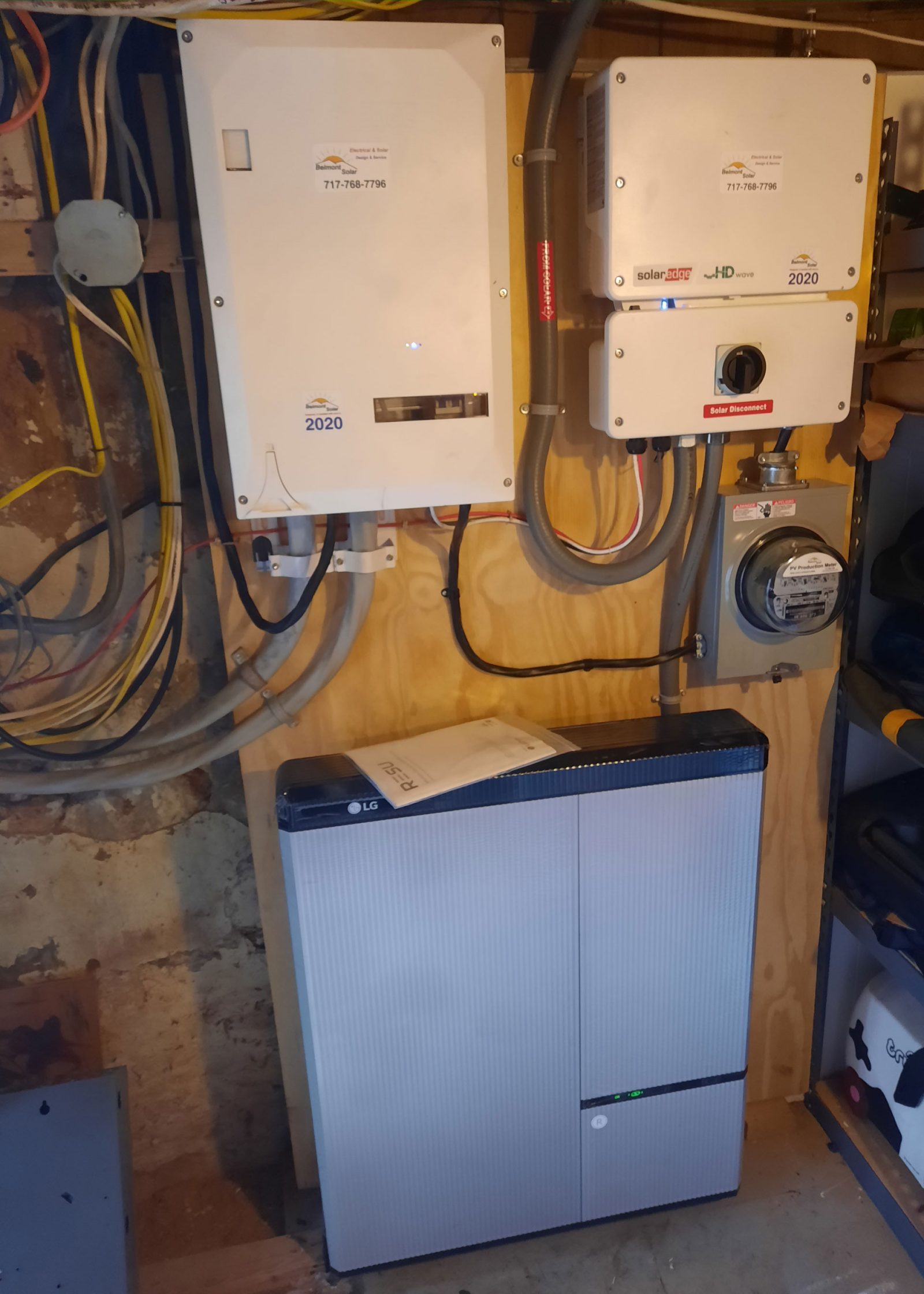 Hybrid Solar Panel Systems or Grid Tied with Battery Backup Solar Panel Systems are solar systems that are tied to or connected to the power grid but primarily rely on the solar energy collected by the solar panels to power a home or business. Basically, what happens is the solar panel array absorbs energy from the sun, uses that energy to power the users home or business, and stores excess energy in backup batteries. The backup batteries come into play overnight or when there is not enough power being generated from the sun due to clouds during a storm. Battery Backup systems are cool because they add that extra level of security. Even if your entire area is out of power because of an issue with the power grid you know that you have power stored in your backup batteries.
LEFT:
Here is a great image from a recent Belmont Solar installation. You can see the Solar Inverters on the wall that turn energy from the sun into useable electricity and you can see the backup battery bank sitting neatly on the floor quietly storing power for a rainy day.
Solar Panel Installation Options: Grid Tied Solar Panel System
Grid Tied Solar Panel Systems are another great solar panel installation option. Grid Tied systems do not include the battery backup feature. What this means is they are connected to the power grid just like Grid Tied with Battery Backup but instead of storing extra energy they put it right back into the power grid. This is called net metering. When this happens the user will actually get credit from their power company for any energy given back to the grid from the solar panel system. This works for businesses as well as residential homeowners. Depending on how large your Grid Tied system is it's possible to practically eliminate your electricity bills when you combine how much energy you are generating from your system and how much you are doing to limit your power usage day in and day out.
Solar Panel Installation Options: DIY Solar Panel Kit
The 4th solar panel installation option we have for you to consider is a Belmont Solar DIY Solar Kit (that's right, we have created a DIY Solar Kit for you). As you examine the chart you will see that the options and performance of the DIY Solar Kit is extremely limited in contrast to the other solar panel systems. It could be a good option for you though if you like working with your hands and you're just getting into solar energy. Any solar is better than no solar in our book. The DIY Kit might just be the thing that gets you really excited about the possibilities of Solar Panel Systems. Contact Us if you have any questions about Solar Energy Systems, we would love to chat with you.
Evaluating Your Solar Panel Installation Options
Now that you have an idea of what each of your solar panel installation options are it's time to consult the chart. Below you will find a chart that compares the 4 solar panel systems we've talked about. You will be able to see where they are similar and where they are different.
In order to decide which solar system would be best for you, think about what you want to accomplish by installing a solar panel system and think about where on your property you could have the solar panels installed. There are other factors to consider as well like how much shade do you have on your property and how does the sun hit your property throughout the day even if it is a clear day. We can help you with all of this if you feel like you want input from a professional source. Reach out today if you would like some help or download our Free Solar Guide at the bottom of the page for more information.
Comparing Solar Panel Installation Options
Off-Grid Solar
Hybrid Solar
Grid-Tied
DIY Solar Kit
Benefit
Off-Grid Solar
Hybrid Solar
Grid-Tied
DIY Solar Kit
Remote Installation
Yes
No
No
No
Nighttime Power
Yes
Yes
Yes
No
Power During Cloudy Days
Limited
Yes
Yes
No
Electricity During Power Outages
Yes
Yes
Limited
Yes
Installed by experienced professionals
Yes
Yes
Yes
No
Elegible for Net Metering
No
Yes
Yes
No
Eligible for SREC
No
Yes
Yes
No
Installation Cost
$$$$
$$$
$$
$
Life Expectancy
18-24 years
80% at 25 years
80% at 25 years
15 years