Commercial Solar Installation Company in PA
Slash Your Energy Costs with a Commercial Solar Installation!
Are your energy bills cutting into your profits? Electricity bills have continued to rise and will only get worse. Imagine if you could redirect some of the overhead costs from electricity bills back into your business! A commercial solar installation will reduce or eliminate your energy bills and protect your business from increased costs!
Why Solar Energy?
Installing a solar system for your business can save you money in 2 ways. First, your monthly payment bill is fixed to one monthly rate, which will help you avoid paying an electric bill so long as you do not pull more demand from the system than it can produce. The second way a solar system will save you money is you will be eligible for several tax credits and other government incentives to help reduce your initial start-up costs. What's more, your system is typically paid off within 7 years or less, and then you can have no bill for your electricity at all — leaving you with the ability to put your money where you want it!
Solar-Powered Savings: Secure Your Business's Future!
Imagine a future where your business not only survives but thrives. You can secure a bright future for your business by harnessing the sun's power! A commercial solar installation will save money by providing predictable costs, receive tax incentives and rebates, and help achieve energy independence. Secure your future today!
---
Commercial Solar System Types
---
Commercial Solar Installation Process
To start your solar journey, give us a call or fill out a quote form. Be prepared to provide us with a scan of your last utility bill and a tentative budget for the project. With this data, we can estimate a system size and provide a free commercial solar installation estimate.
After we get your consultation request, we will send you a link to an online proposal. This proposal will provide the project details and a breakdown displaying the cost, estimated payback, and tentative schedule for the system. An electronic signature and a downpayment are all we need to get started. We will typically send you the proposal after 1 – 2 business days.
After the contract is signed, we will begin securing all the needed permits and licenses from your local officials. Once the permits are filed, our commercial solar installation team will visit your business and begin the installation. After the racking and panels are installed, we will verify that the system is generating power optimally. You can sit back and watch your savings grow.
Commercial Solar Installation Benefits
---
Reduce or Eliminate Energy Bills
Did you know that, on average, electricity costs rise by 2.6% annually? It isn't right for you or your business to be subjected to the price being out of your control! A solar system will lock in a competitive rate that will stay the same for years and, on average, pay for itself in 7 years or less, depending on the size of the system. The bigger the system, the faster the ROI! 
---
Improve Cash Flow
We all know cash flow is the biggest struggle in getting to the next business level. By going solar, you can profit by selling your Solar Energy Renewable Credits (SRECs). The state requires Pennsylvania power companies to have 0.5% of their electricity sales be from solar generation. PA SRECs generated from residential grid-tied solar systems qualify as approved sources of electricity so that you can sell them via a broker to high-polluting companies, like steel mills, utility companies, etc. Once your system is paid off in 7 years, you will benefit by pocketing the money for the next 20 years that used to go to your electricity bill. 
For example, let's look at "Tim's" business.
Tim spends $1,000 on electricity at his manufacturing facility, which is $12,000 annually. Because of the size of his shop and the roof, Tim can add a commercial solar installation with a monthly payment of $1,000 to meet his electrical needs. With a system payoff of 7 years or less, he saved thousands of dollars yearly due to yearly inflation. Now, for the next 23 years, he can pocket the savings of $276,000 to invest in his infrastructure and staff or save the money for future expenses.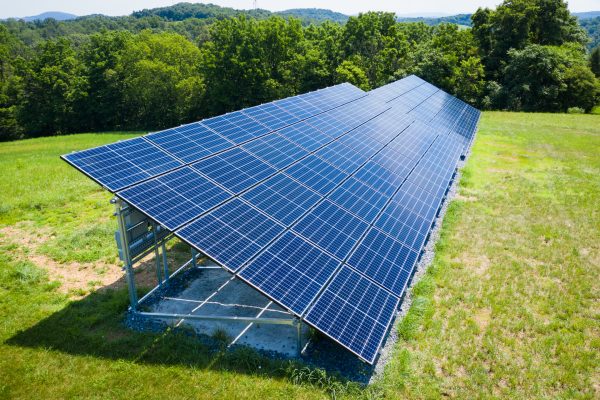 ---
Tax Deductions
You can receive up to a 30% Federal investment tax credit on an eligible commercial solar installation. On top of the investment tax credit, you will get a production tax credit, a per kilowatt hour tax credit for electricity generated for the first 10 years. The production tax credit reduces your federal income tax liability and is adjusted annually for inflation. You will also save on utility taxes since you are not paying a utility bill each month and all the extra fees that utility companies love to add to your bills.
---
Adds Real Estate Value
A commercial solar installation will increase your property value. In a recent study on residential property values, Zillow found that home solar installations increased property value by an average of 4.1%. While this number is for residential properties, your commercial property will also benefit and increase the value of your assets. Higher property value will help you with financing and mortgages to expand your business.
---
The System Pays For Itself
Typically, a commercial solar system will pay for itself in 7 years or less and have a 25 – 30 year life span so that you will profit in the last 18 – 20 years. The larger the system, the faster it will pay for itself. If you decide to go with a bigger system, you can also replace oil heaters and eliminate the ever-fluctuating prices by replacing them with electric heaters. If you purchase a system that produces more electricity than you use, you will make money and have a passive income source for the next 25 – 30 years.
Why Belmont Solar?
Why should you trust Belmont Solar? We can sum that up in two words: "experience and trust." Belmont Solar was a dream our founder Ben Zook had since he was a boy growing up on an Amish family's farm. Ben obtained his GED and began working for an electrical contractor, which inspired him to become a NABCEP Certified Photo Voltaic Installer by passing his Certified Energy Practitioners Exam.
After working for an electrical contractor, Ben Founded Belmont Solar In 2001.
We have come a long way since our humble beginnings in 2001. We have gained experience installing commercial solar systems all over Lancaster County and the surrounding areas. We fuse our experience and the trust of our previous clients to bring you the best in solar installation for Eastern PA and Maryland.
If, after reading this article, you are ready to learn more about solar for your business, contact us. At Belmont Solar, we have over 20 years of experience and certifications to bring you a trustworthy solar system from trustworthy people. All of this makes your solar system installation a breeze.
Areas We Serve
---
We serve a large area of eastern Pennsylvania and parts of Maryland. We have installed solar systems in Lancaster, Berks, Dauphin, Delaware, York, Harford, Chester, and Cecil counties just to name a few.
Belmont can meet your needs whether you're looking for a commercial or residential solar system. Contact us today through the website, check out our solar calculator, download our free solar guides, or call us with your questions. 
---