Berks County Solar Company
From Workmanship to Friendship
Berks County Solar Installation Company: Belmont Solar
Are you looking for a way to lower your monthly energy bills and reduce your environmental impact? Solar energy is the answer you've been searching for. At Belmont Solar, we have been providing Berks County solar system installations to countless satisfied customers for nearly twenty years.
We offer off-grid solar systems, as well as grid-tie solar and grid-tie solar with battery backup. In addition, we can even provide electricity to homes located in areas that local utility providers do not serve. Listed below are the municipalities we serve in Berks County PA:
Berks County Solar Panel Installation
Powering your home with energy from the sun has never been as easy, efficient, and cost-effective as it is today using a solar power system. Belmont Solar is known to be an innovator in the solar industry with our Amish workmanship and technical knowledge that we bring to each Berks County solar installation project. Switching to solar power can completely eliminate your monthly electricity bills in many cases. 
You can find out today how much a solar panel system large enough to cover your electricity bills will cost you by using our solar panel cost calculator. Using our solar cost calculator all you need to do is select the amount that your monthly electricity bill is close to and the calculator will do the rest. Now, the results you get are an estimate and not an official quote but the solar calculator will give you a very realistic idea of what a full-sized solar panel system installation in Berks County would cost.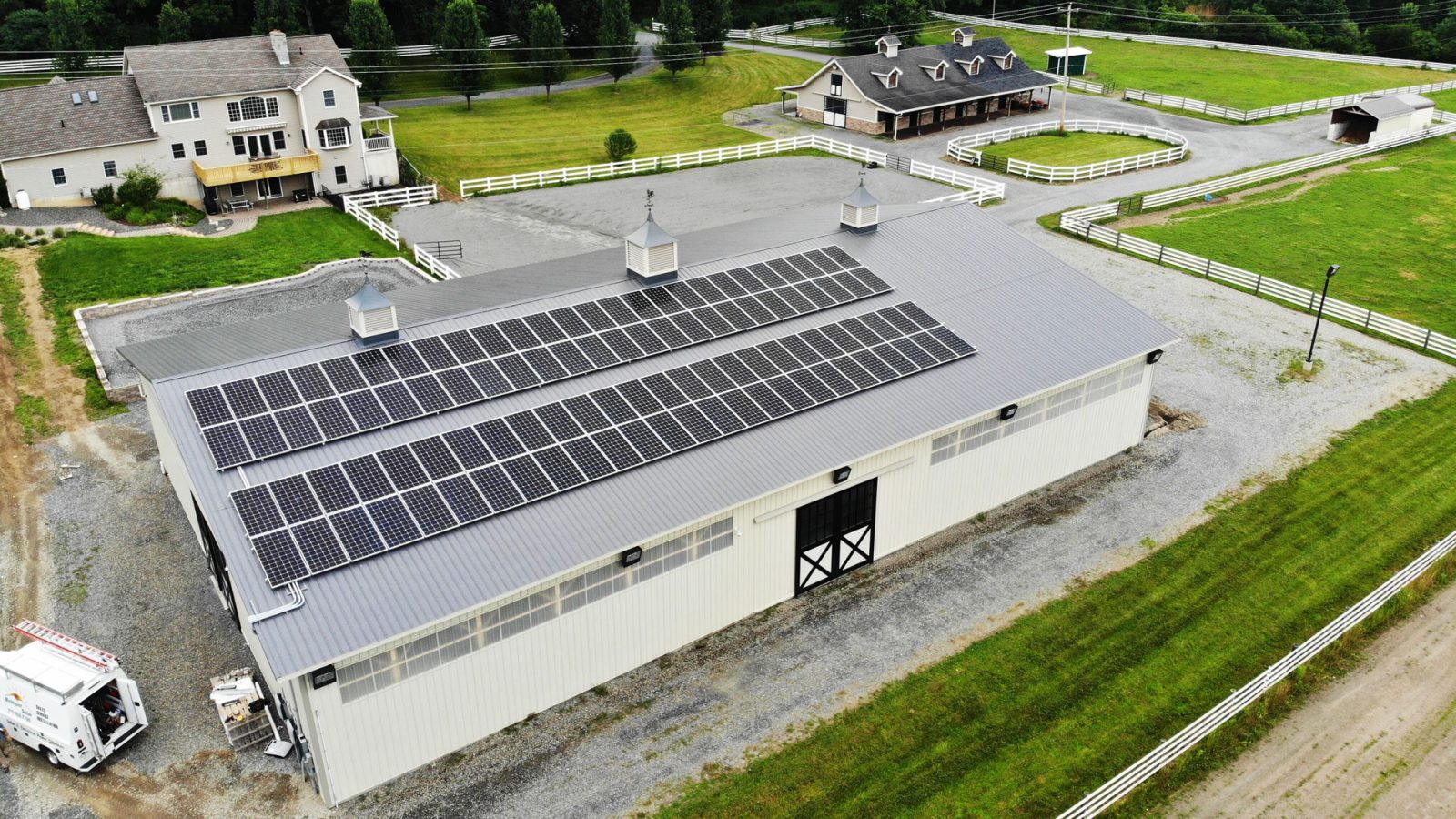 We provide an easy customer experience that will save the headaches that other solar companies may provide. We research each town and municipality's unique laws and regulations so that your home's solar electrical system will be in compliance. We make it easy for you to enjoy the many benefits of solar power!
TYPES OF SOLAR SYSTEMS WE OFFER FOR BERKS COUNTY PA
We offer a few different options of solar systems at Belmont Solar for Berks County residents:
Grid-tie Solar Systems – the solar panels are connected to the local power grid with no solar battery backup
Off-grid Solar Systems – the solar panels are not connected to the local utility provider and rely on a bank of solar batteries and special appliances
Grid-tie with Battery Backup – a hybrid system that is connected to the utility grid but that has a bank of solar batteries for power during an emergency
Check out our Solar Learning Center for more information and solar resources!
Going Solar In Berks County PA Is Easy
We have worked hard to develop a way of doing things that makes Berks County Solar installations very easy. Belmont Solar will take care of all the hard or confusing parts of the process so that all you really have to do is review and approve the job proposal, place your down payment, watch us install your solar panel system, and sit back and watch your solar panels create power out of thin air for you.
Submit a contact form or complete the solar cost calculator form and one of our solar consultants will reach out to talk about your goals for your Berks County Solar System.
We will help you determine what type of system will be best for you and custom design your solar installation.
Then we will send you a proposal with a full cost breakdown and a tentative install schedule.
After you e-sign your electronic proposal and submit your down payment we begin preparing to install your solar system in Berks County.
We'll work with your local municipalities to ensure that your applications and permits are all filed correctly.
The last thing to do is install your solar panel system and power it on for you to make sure it is producing power!
Solar Energy Company Serving Berks County PA
There is no shortage of reasons why more and more homeowners are looking for a solar company in Berks County, PA. At Belmont Solar, we bring cutting-edge technology and expert workmanship to every single solar panel installation project. Our team will work with you throughout the entire process to ensure you receive the best system for your wants and needs. If you're ready to get started, give us a call at 717-768-7796 or fill out a contact form!