Solar Company Serving Dauphin County
With the rise in popularity of clean energy, homeowners across the nation have been looking to find ways to reduce their environmental impact. At Belmont Solar, we harness the power of solar energy for our customers. Since 2002, we have been completing solar installations in Dauphin County for many satisfied customers. We offer several different kinds of systems, ensuring you will get the one that fits your needs best. In addition to making your home greener, solar energy can also reduce your monthly energy bills and provide electric to areas that utility companies may not serve. Listed below are towns and municipalities that Belmont Solar will complete projects in:
Harrisburg
Hershey
Hummelstown
Middletown
Dauphin
Steelton
Elizabethville
Millersburg
Halifax
And many more
Dauphin County Solar Installation
Powering your home with solar energy in Dauphin County can turn into reality very quickly with Belmont Solar. We have been in business for nearly two decades, and bring an outstanding combination of experience, technical know-how, and Amish workmanship. Our commitment to our customers is to provide a smooth, easy experience that will save you the headaches and worries that other companies may provide. When tackling as large of a project as solar installation can be, it is important to work with a company with as much experience as Belmont solar.
Sunpower Electrical Systems We Offer
Listed below are the types of systems Belmont Solar offers to its customers: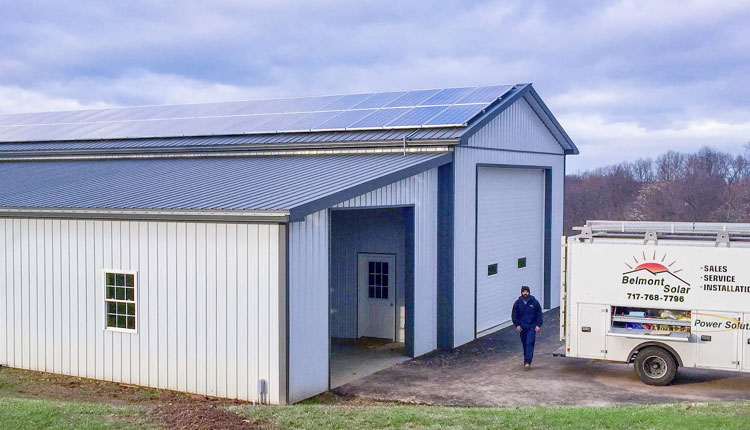 Our Easy Solar Installation Process
Once we receive your completed online form, we will have one of our solar consultants reach out to you to have a conversation about your goals for a solar panel system. Once we establish what you are looking for, our team will send you an online proposal that will cover all the details of the solar installation project, including a cost breakdown and a tentative schedule. Once we receive a down payment and your electronically-signed proposal, we will be ready to get started on the project. After working with local officials to ensure all paperwork is filed correctly, our team will come out to your home to install the solar panels. Once everything is installed and connected properly, we will inspect your system to ensure power is being generated.
Dauphin County Solar Energy Company
If you're looking for a solar company in Dauphin County that will provide you with top-notch customer service and a high-quality solar system, make the right choice with Belmont Solar. With our technological prowess and experience, we aim to meet and exceed your expectations for your solar panel installation. Ready to get started? Give us a call at 717-768-7796 or fill out a contact form.