Mechanicsburg Solar Company
Workmanship to Friendship
Solar energy has been booming in popularity in recent years—and with good reason. Solar-powered electrical systems can reduce your monthly energy costs, lower your impact on the environment, and even provide electric to areas that utility companies may not serve. Offering grid-tie, grid-tie with backup, and off-grid solar systems, Belmont Solar is the best choice if you are looking for a solar company in Mechanicsburg, or the rest of Cumberland County. Listed below are some of the towns and cities we serve:
Mechanicsburg
Carlisle
Camp Hill
Lemoyne
Enola
Newville
Boiling Springs
Wormleysburg
Lower Allen
Mount Holly Springs
And other areas in Cumberland County
Mechanicsburg, PA Solar Installation
Harnessing the power of solar energy is a smart, efficient, and cost-effective way to power your home. With nearly two decades of experience, Belmont Solar has continued to be an innovator in the industry, bringing lots of technical knowledge and expert workmanship to each solar installation project. Our team is committed to providing a simple, yet thorough experience to help you get the right solar-powered system that suits your wants and needs. Since every state and municipality has different laws and regulations for solar panel installation, it is important to work with a company with as much knowledge and experience in solar energy as Belmont Solar.
Types of Solar Electric Systems
At Belmont Solar, we offer a few different options for our solar installation projects:
Grid-tie Solar Systems – the solar system works in conjunction with local utility providers
Off-grid Solar Systems – the solar system does not work in conjunction with utility providers, instead of relying on a bank of batteries and other special appliances
Grid-tie with Battery Backup – the solar system combines elements from both grid-tie and off-grid solar systems
You can learn more about our different systems through our on-site learning center!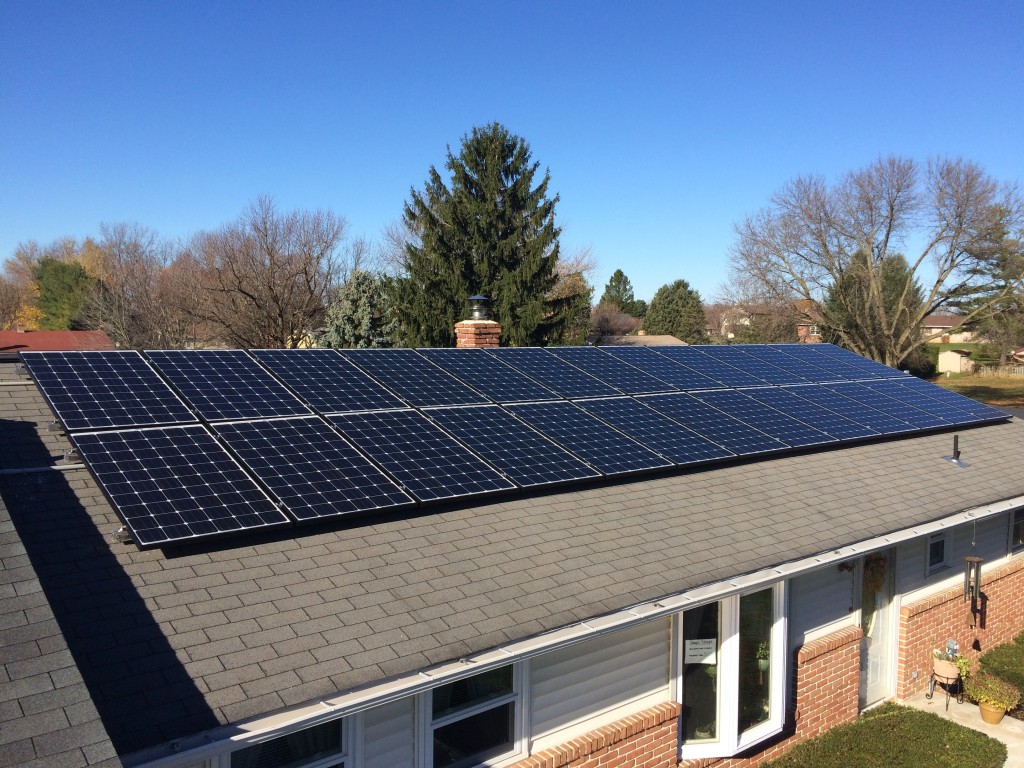 Solar Installation Process
Once you submit a form with your information, one of our solar consultants will reach out to discuss your needs and goals for a solar electric system. We will help you determine which system will work best for you and your location. Within a day of talking over the phone, we will send you a link to an online proposal detailing the specifics of the project including a cost breakdown and tentative schedule. After an electronic signature and down payment, the project will be ready for us to get started! We work with local officials to ensure all the applications and permits are filed and completed correctly. Our team will then come out to your home to complete the installation and make the necessary connections to your home. Once everything is installed and connected, our team will ensure that power is being generated for your home.
Residential Solar Company in Mechanicsburg, PA
If you're a homeowner looking for the best solar company in Cumberland County, look no further. Belmont Solar brings years' worth of knowledge and cutting-edge technology to each of its project. Our customer service team will be straightforward and will work with you throughout the entire process so you can rest assured you will receive the best solar system for your home. Ready to get started? Give us a call at 717-768-7796, or fill out a contact form for your free consultation.