Solar Myths
Debunking the 5 Most Common Solar Energy Myths
When we speak to people during organized solar events, we realize how many believe in solar myths that they have heard floating around. It can be hard to understand solar and get the facts straight, and we get that. However, if you are interested in solar energy, it is incredibly important that you know the straight facts without the extra assumptions or misguided statements. It's our personal goal to help you navigate these solar myths and educate yourself about the truth of solar energy. And with that, let's get into debunking some of the top solar myths out there!
Solar Myth 1
Solar is a Luxury Only the Very Few Can Afford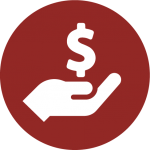 The first solar myths is regarding cost. New developments in the solar panel arena are so dramatic and frequent that few people have kept up with the changes. In the past decade alone, the cost of solar has fallen 60%, and in the past four decades, the cost has plummeted 99%, according to the 2018 MIT study titled Explaining the plummeting cost of solar power.
We hear you say, "Sure, but what does all this good stuff mean to me?"
Even without seeing your individual electric bill, we can share with you some numbers based on national averages to show how solar can completely cover the amount a typical homeowner spends on electricity.
Of course, your system and situation are unique to you, so you might need more power or less power than "average." If you heat with wood, coal, or oil, most likely you need less power.
Source: Green Tech Media
The average system size for a residential application is about 6 KW. For this amount of power, the average gross cost has fallen from $50,000 to just $18,000 in about the past decade.
For 2020, the federal tax credit is at 26%. Subtract that amount from the purchase price, and you're looking at approximately $14,000 for a residential solar system that can cover most, if not all, of your electricity needs. People who propose solar myths don't actually know or realize these numbers. That's why we have solar energy myths floating today.
Solar is a financially wise investment. The returns are steady and not influenced by market changes. Solar's ability to avoid the politics and price volatility that increasingly characterize fossil fuel markets is a major advantage.
We'd be happy to calculate the exact amount of time it would take to pay off a solar system for your home. Click here or give us a call at (717) 768-7796.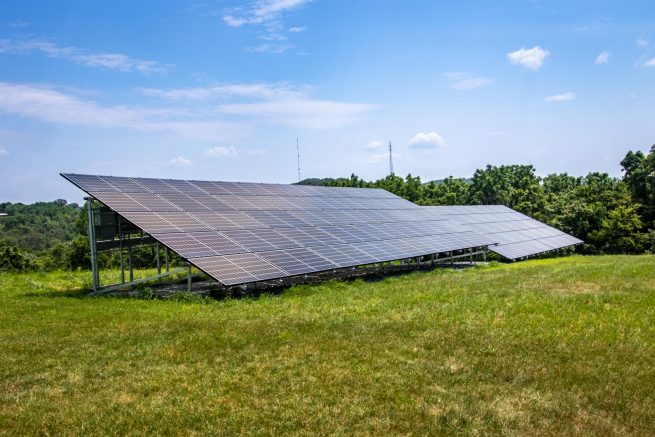 For 2020, the federal tax credit is at 26%. Subtract that amount from the purchase price, and you're looking at approximately $14,000 for a residential solar system that can cover most, if not all, of your electricity needs.
Solar Myth 2
Solar Might Damage My Roof
Continuing on with solar myths, a second popular one we see is that solar will damage a roof. Damage to a roof is frustrating for every home owner, and we can definitely understand that a leaking roof is something you want to avoid. However, when you work with Belmont Solar, this fear becomes nothing more than other common solar myths.
Workmanship is an important factor in any profession, so the first thing to check when considering a solar installer is certification and a workmanship warranty. The warranty we offer is for 10 years! Workmanship is key to a top-quality, worry-free installation, and part of that is making sure your roof is in good condition. Before we sign a contract, we inspect your roof and its construction to be sure it is in good shape and will not create issues down the road.
Our team of installers is certified by the NABCEP, the governing accreditation organization for solar companies. For this certificate, we've taken over 58 hours of advanced training and passed a rigorous examination. This means that your solar array will be installed using industry-leading equipment and practices. As long as you're working with a qualified, local NABCEP licensed solar professional, you won't have to worry about this solar myth.
You should also look at reviews. Using Google to search for reviews of solar installation companies is a great way to do research and will help you make a list of installers with great reviews. See our page How to choose a trusted solar installer for more tips.
Another very important factor in avoiding roof damage is the choice of materials that mount the solar system onto your roof to ensure a sturdy connection. Belmont Solar has been in business for almost 20 years, so we can lean on those two decades of valuable experience. One thing we have done to make installations worry free is design our own brackets. We even went further and bought a company called Tough Trac, a leader in the solar equipment industry since 2009 because of the quality and durability of its products. Tough Trac now designs and makes all the mounting materials to our liking and exact specifications, standing by its slogan: "To be tough, you have to be built tough."
By making Tough Trac part of Belmont Solar, we can now further perfect the mounting materials. Find more information on our Belmont Solar ToughTrac Page. As you can see in the picture, the foot of the bracket has specially-designed caulk/sealer that will adhere to the roof and make the connection absolutely waterproof. As a result, you can have peace of mind knowing you are protected from this solar myth becoming a reality.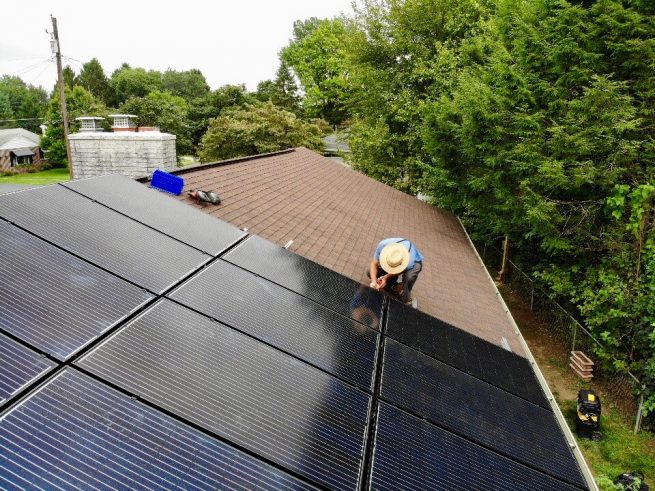 Photo Source: Thalia Speksnijder
As long as you're working with a qualified, local NABCEP licensed solar professional, you won't have to worry about roof damage.
Solar Myth 3
Solar Energy Will Power My Home When the Power Goes Out
The next of our solar myths involves solar energy and its ability to power your home when the utility grid goes down. Unfortunately, we cannot push power back into the grid when the utilities are down. First and foremost, we need to keep the utility workers safe. For that reason, the utility companies require your system to shut down when the power goes out. Your inverter is built to shut down automatically in the event of an outage. There is also a technical reason: your system has no way to store the energy you produce, because you cannot store energy in wires alone.
This brings us to the topic of an in-home battery backup. More and more Americans are choosing the security of an in-home battery backup system to keep their families safe.
Because of climate change, serious weather events that threaten the electric power grid and result in power outages are on the rise. Sustained outages will lead to the loss of perishable foods, loss of data and income for businesses and home offices, damage to plumbing systems, etc.
Traditionally, home and business owners would rely on gas- or diesel-powered generators during outages. However, if these types of generators sit for long periods without being used, they can have problems starting right at the moment when you need them the most. Generators can, therefore, become unreliable and costly to maintain.
In-home batteries (or in a commercial setting) work by storing electricity for when you need it and will save money with or without a solar system. You can charge the batteries during the off-peak hours when the cost of power is lower. Of course, charging the batteries with clean solar power is the best solution from a financial, as well as an environmental, point of view. Battery backup complements a solar system by storing clean power for the quiet and dark hours of the day when sunlight is not available.
Hybrid battery backup systems are configured to receive a charge either through the grid or with solar. This has a big advantage over a grid-tie-only system, as the power companies require the grid-tie system to shut down during a power outage to protect the line workers. The grid-tie system will not power your house during a power outage, but a hybrid system can. Instead of shutting down during a power outage, it will immediately switch over to battery backup. Most likely, you will not even know there was a power outage, as the switch is nearly instantaneous.
Because of our 20 years of experience in the Amish community, we have an extended specialization in battery backup systems. Naturally, we want to inform our customers about why our services and materials are different, but it is also our responsibility to inform you of these differences. We care about you. That's why we share information like this on our website.
Battery backup with, or even without, solar will help prepare your family or business for the increase of weather-related disasters. To learn more about solar battery backup systems and solutions, visit our battery backup page.
Animation courtesy of EnergySage
In-home batteries (or in a commercial setting) work by storing electricity for when you need it and will save money with or without a solar system.
Solar Myth 4
A Solar System is Complicated and Needs a lot of Maintenance.
The fourth of the solar myths is how complicated the system is. Contrary to this solar myth, the reality is that a solar system is definitely not rocket science and is fairly straightforward. The complicated work of converting sunlight into DC (direct current) electricity is done by the solar panels themselves. The DC current feeds into the inverter where it is converted into AC (alternating current) which is compatible with your local electric utility grid. And that's it! Now you know what the system does.
Just as you do not need to be a ham radio operator to tune your radio, you don't need a physics degree to understand your solar system. Most people who go solar choose a relatively simple setup, which pays the quickest and gives the best return on their investment. At Belmont Solar, we are all about keeping things simple and maximizing your benefits versus costs by using the best field-tested and proven equipment.
The three basic parts of a solar system are:
1. The solar panels—Photovoltaic panels are the largest expense in your system, and their optimal performance depends on proper placement and mounting. This is why you need the professionalism of an experienced solar installer.
2. The inverter – The inverter takes the power from the panels and converts it into grid-compliant AC for connecting to your household appliances and the grid. Quality is important, as inverters are the weak link in a solar system. Belmont Solar only uses the best equipment, tested and proven to last. That's why we only use equipment with a 25-year warranty.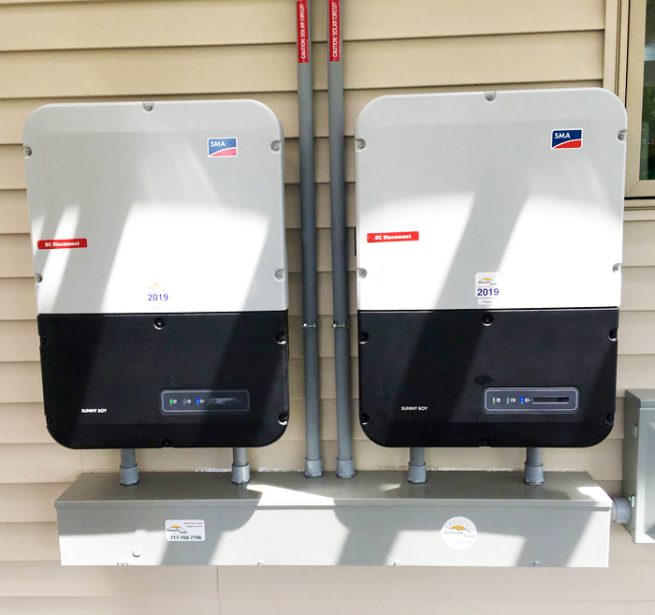 3. The mounting system — Obviously, when we promise that the equipment we use will last for at least 25 years (as stated in the warranty), it needs to remain securely attached to the roof for all that time, and probably longer. This makes the job of mounting it critically important, requiring Belmont Solar's experience and expertise.
Now let's move on to the topic of maintenance.
As part of the process before you go solar, we do a thorough roof and building inspection. If necessary, we might recommend renewing the roof before the installation. Otherwise, the solar system will totally outlast the roof. That's all part of how we avoid having to return for service and ensure you of the best return on your investment.
The equipment is made to withstand harsh weather, including strong winds, hail storms, sleet, and snow. If your panels are mounted on a flat roof, you might need to do an occasional cleaning, but if the roof (and therefore the panels) are angled, no further maintenance will be required. The rain will clean the surface of the panels. So basically, the claim that solar panels require a lot of maintenance is simply not true, but rather just another one of those solar myths.
The simple approach is definitely the way to go whenever possible, but we do want to mention that some people decide on a slightly more complicated setup. We are seeing an increasing number of our customers choosing to have the added power security of a battery backup, a great benefit, especially in these changing and uncertain times. We invite you to read our page on Battery backup.
In conclusion, we strongly recommend that you choose an experienced and local installer who uses proven, field-tested equipment that is as simple as your situation merits. By choosing Belmont Solar, you can rest assured that we will stand behind our work with a 10-year workmanship warranty and a 25-year manufacture's warranty.
Contrary to this solar myth, the reality is that a solar system is definitely not rocket science and is fairly straightforward.
Solar Myth #5
Houses With Solar Panels are Difficult to Sell
The last of the solar myths covered in this article: Houses with solar panels are more difficult to sell. Thankfully times have changed and the idea of solar panels making a house more difficult to sell is, indeed, a solar myth. Several studies have shown that houses with solar sell better than comparable houses without solar. (See the links below.) The increase in price for houses with solar is driven by the same financial returns homeowners enjoy by investing in a new solar installation. Technology/Efficiency improvements increase those returns.
That powerful enticement, when combined with high energy prices, makes homes with solar more attractive to buyers, driving up prices. This, of course, is fantastic news for homeowners with solar. In addition to a much lower (or non-existent) utility bill, you will also receive a higher price for your home once you are ready to sell.
The exception is when homeowners have leased solar systems and then decided to sell. Leasing is a popular option for those who want to go solar without investing in an array. However, if they want to put their home on the market they will find that selling a house with a leased solar system is not straightforward.
This is because not all prospective home buyers are interested in taking over the lease and having its cost be an additional financial responsibility. Most buyers will ask the homeowner to buy out the lease first. Your upfront costs are low when leasing solar, but you never own the system. If you don't own the solar, all the state and federal incentives go to the owner of the system, a third party, and not to you- the homeowner.
Zillow indicates a 4.1 percent (4.1%) increase in resell value for a house with solar, so let's look at the numbers. Take an average house in our neighborhood, Lancaster County, PA. At the time this blog was written, the average from Zillow Home Value Index was $283,789. Your new solar installation will add $9,790 to your home's value.
The real estate industry now sees the value solar adds, and is working hard to create better, more accurate methods for determining the market value of solar system and of properties with solar compared to properties without solar. Obviously, when you add an asset to your home that lowers your monthly cost by reducing, or eliminating, the utility bill, your home's value increases. Below are the links to studies that clearly show how solar adds value to a house.
Many more Americans now recognize the value of solar and make the move to install a solar system. In conclusion, have no concern about solar inhibiting the sale of your home and forget this myth. The real situation is the exact opposite.
Solar Myths: Debunked
What have we learned about these solar myths? We've learned that Myth #1 of the five solar myths is: "Solar is a luxury only the very few can afford" is untrue. The cost of solar panel installation and maintenance has decreased 99% in the last 40 years. Myth #2: "Solar might damage my roof" is also untrue, since we are certified installers, with over 58 hours of training and years of experience. We use only the best products and back them with a 10 year warranty to ensure that your solar panels are top-quality and worry-free!
Solar Energy Myth #3 "Solar energy will power my home when the power goes out" has also been debunked. When a storm or utilities shutdown occurs, the power companies require your inverter to be shutdown to prevent your energy from back-feeding through the power lines and potentially injuring a utility worker. However, with an in-home battery-backup or a hybrid battery backup system, you can keep your home powered during a power-outage.
Solar Myth #4 "Solar systems are complicated and need a lot of maintenance" is not true either. Solar panels and the supporting system is not "rocket-science" and is fairly straightforward. You don't need to become a physics major to understand your solar panel system. And the last myth (#5) we disproved was "Houses with solar panels are difficult to sell". We have discovered that contrary to the popular belief, homes with solar panels installed actually are worth 4.1 percent (4.1%) more than homes without.
We have tried to uncover the most common solar myths, however there are many more that we haven't covered. If you have something holding you back from having solar panels installed for your home, give us a call at (717) 768-7796 and we'll walk you through the entire solar panel installation and life.
If you have any questions regarding solar panels, battery-backup systems, pricing, installation, or solar myths – contact us or visit our learning center.