Belmont Solar, LLC: A Premier Solar Installation Company
Where Modern Technology and Old-Fashioned Workmanship Meet
Belmont Solar is a professional, full-service, solar installation company specializing in solar photovoltaic (PV) and battery-powered systems. Although we are a small, local company located in Lancaster County, Pennsylvania, we strive in big ways to increase the use of, and enthusiasm for, solar energy. Our completely personalized services, from the design phase through the final solar installation, have met the needs of our customers in southeastern Pennsylvania and the surrounding areas since 2002.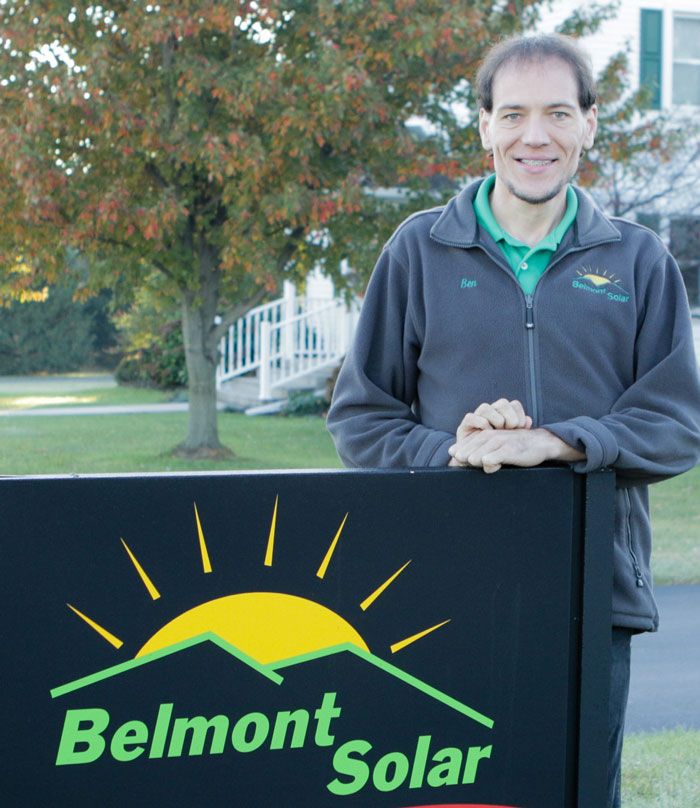 Owner Ben Zook, who grew up in the Amish community, has always been fascinated with electricity and had a passion for technology. Ben started working for an electrical contractor after earning his General Educational Development Test. In his spare time, he built electrical circuits and home projects as a hobby, which included testing battery-run lighting for homes without electricity. The challenge was how to recharge the batteries required to light an entire home. That's when Ben discovered solar and the amazing potential for "power out of thin air."
He took this vision of enhancing lives through the use off-grid solar, combined it with his training and experience as an electrician, and at age 18 started Belmont Solar, a leading solar installation company. To further his training, he received a degree from Thaddeus Stevens College of Technology. In 2008, he passed the rigorous certification process from the North American Board of Certified Energy Practitioners, becoming a NABCEP PV-certified installer.
Ben's goal was to combine solar panels with batteries to create a completely off-the-grid power supply. In this way, he could bring electrical power to the Amish community, which, having no connection to a public electrical utility, had been using diesel-powered air compressors for running water, along with gas and kerosene for other needs. With a properly designed system from a residential solar installation company, a family could power their home's essentials, such as lighting, appliances, refrigeration, water heating, etc. Now many Amish and members of other plain communities use solar power in combination with advanced battery power systems.
As a leading solar installation company, Belmont Solar meets every customer's needs. One popular method is through a grid-interactive solar system, which combines the benefits of both grid-tie and off-grid applications in one package. A full-featured solar panel system with battery backup, this hybrid system remains connected to the grid, allowing customers to sell unused energy back to the utility company. If the power from the electric company goes out, they still have the energy stored in the battery backup system to power their home. With a grid-interactive solar installation from Belmont Solar, customers can reduce energy costs, gain dependable electricity, and even achieve energy independence.
Like all photovoltaic (PV) solar panels, this system generates clean, free energy from the sun. The system uses this energy to charge a bank of battery as backups for solar panels.
During the day, the solar energy is used to power the home's systems. Any excess energy generated by the system is sold and sent onto the utility grid.
When the grid fails, the solar power backup system kicks in and runs the essential appliances and systems connected to the backup, with no loss of power to key components during an outage.
In 2017, our solar installation company acquired Tough Trac, a leading designer and manufacturer of solar panel mounting systems. This acquisition provides Belmont Solar customers with Tough Trac's innovative solution to wire management. All of this fits with our goal of ever-improving durability, neatness, and value.
Over the past several years, the growth of Belmont Solar into a leading solar installation company has been made possible by the support of many individuals. Ben's strong instinct for innovation, along with his education, has led him to form a team of talented solar installers. Each team member brings experience, skill, and honesty to every project, helping you turn your energy bills into equity. Another big priority is to simply answer questions and educate the public to increase understanding and appreciation for the personal and environmental benefits of going solar.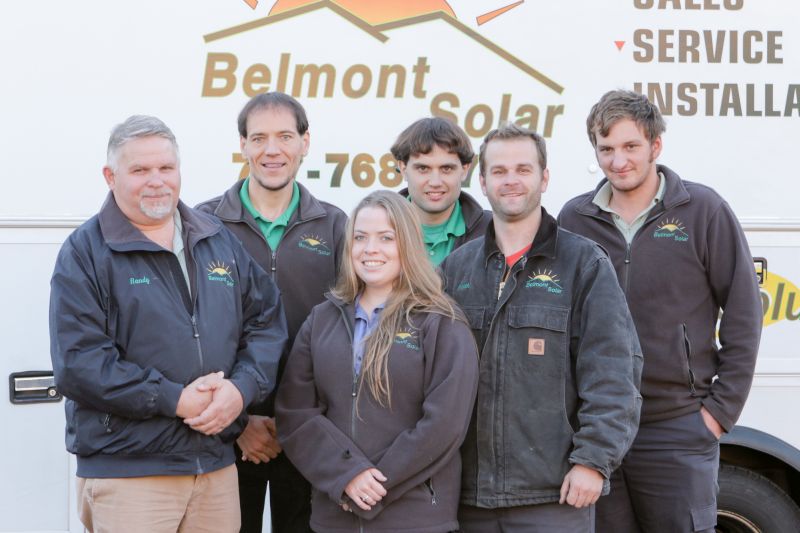 Many families and businesses across the Mid-Atlantic area now enjoy clean power as a direct result of working with our premier solar installation company. This company's unique combination of old-fashioned workmanship and new technology has made off-grid and grid-connected solar power a possibility, rather than just a dream, for a growing number of customers.
Every day brings exciting news about the potential for solar energy to completely change the way humans acquire and use electrical power. The possibilities seem almost endless. As a leading solar installation company, Belmont Solar will strive to play a part in impacting the future of our world in positive ways.
Our priorities are expressed through out motto: P.E.N.— Performance, Education, and Neatness.
If you would like to learn how our solar installation company can make a difference for you, contact us today! Additionally, you can head over to our learning center to answer any burning questions you may have about solar energy.